Salt allows E Ink clients to access the hardware and software of E Ink's 31.2", 42" ePaper display module for evaluation. This kit demonstrates as a turnkey solution for those who are interested in designing with E Ink displays. Hardware and software design support is available from E Ink directly.
Product Description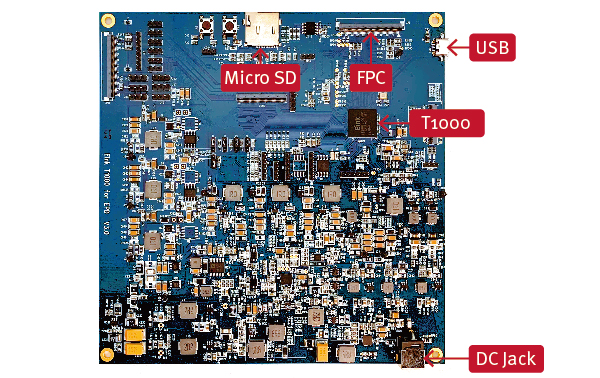 Why should you choose Salt display?
● Accelerated design-in process of large ePaper models
● Cost effective lay-out design as reference
● End-products adopt features of E Ink display, such as always-on, low power consumption, sunlight readability, etc.
● Suitable for applications such signage market
● Hardware and software support from E Ink directly
What Salt can do for you?
● Demonstrate as a turn-key solution
● Hands-on experiment with Windows AP
● Loading and viewing custom images on 31.2", 42" E Ink display
● Easy tryout on applications desired
Features
● Support 31.2, 42" E Ink large display
● Full reference design support directly from E Ink
Package content
● Salt Board, 1 pcs
● 12V 5A power adapter, 1 pcs
● Transfer board for 31.2", 42" panel, 1 pcs
● FFC cable, 5pcs
SPECIFICATION
Item

Specification

TCON Solution
Hardware TCON
Controller Board
Outline Dimension
Tcon board: 15cm × 15cm × 0.12cm
TS board: 40 cm × 5cm × 0.12cm
FFC: 15 cm
Interface
USB
Input
12V DC (power on when con.)
RAM
Embedded 64MB
Flash Memory
External 16MB
Operating Temperature
0~50 degree
USER MANUAL
Color Salt Driving Board (EC312TT2)
View online
Monochrome Salt Driving Board (ED312TT2)
View online
Monochrome Salt Driving Board (ED420TT1)
View online

---
---
E Ink开发板对应屏幕:

—————————————————————————————————————————————————