Kobo Forma eReader Review参数照片售价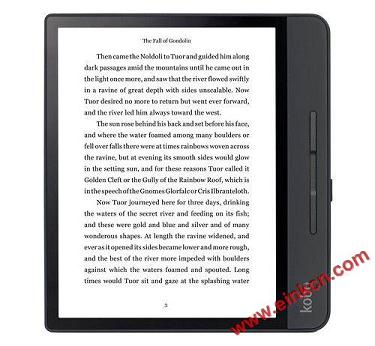 Review Date: November 2018 – Review unit purchased from Kobo.com
Overview
The Kobo Forma was officially released on October 23rd, 2018. It has a completely new design never seen before on a Kobo ebook reader, and it's the first Kobo to have page buttons since 2010.
It's also the first Kobo ereader to feature an 8-inch E Ink screen, and the screen is unique because it has a flexible plastic backplane instead of glass so that helps make it lighter and more durable.
In fact the the Kobo Forma is over 30 grams lighter than the Kobo Aura One, despite adding page buttons and a slightly larger screen.
Another new feature is the addition of a rotation sensor to automatically switch the screen orientation depending on which hand you are using, and it even rotates to landscape mode.
It comes with 8GB of storage space, and the press release mentioned a 32GB model but its availability wasn't specified.
The Kobo Forma sells for $279 USD from Kobo.com and Walmart, and $299 CAD from Indigo.
Kobo Forma Review
Pros
It's surprisingly thin and light for its size, and comfortable to hold with a thumb resting on a page button in both portrait and landscape mode.

It has a flush front screen with adjustable frontlight color, and the 8-inch 300 ppi E Ink screen looks great.

Kobo's software offers a wide range of features and has evolved well over the years.
Cons
Frontlight imperfections. There's a dark strip that goes along the side of the screen with the buttons, and there's a PWM flickering issue.

It's unusually large and wide with the page buttons on the side, which makes it seem less book-like and makes it less portable.

The rotation sensor is annoyingly slow to respond at times and it can't be disabled.
Verdict
For the most part I really like reading ebook on the Kobo Forma, especially with the OverDrive integration to easily get free library ebooks. I like the larger screen and the device is comfortable to hold with its unusual design.
My only real complaint with the Kobo Forma is the frontlight gradient can be a little distracting when using the light at night. It's not noticeable when there's plenty of ambient lighting and it's barely noticeable in landscape mode, but it's something to be aware of if you're the kind of person that is sensitive to frontlight uniformity, that and PWM if you're sensitive to screen flicker.
It's nice to see Kobo come out with something completely different from their previous models for a change. The Kobo Forma is the most unique new ebook reader of 2018 with it's flared design and upgraded Mobius E Ink screen. It's worth checking out if you like having page buttons and want something different and more innovative than the standard 6-inch ereader.
评论区