Kingrow K1 might be the best E Ink Smartphone ever made
如下两款同性质电子墨水护眼阅读手机可以考虑:
============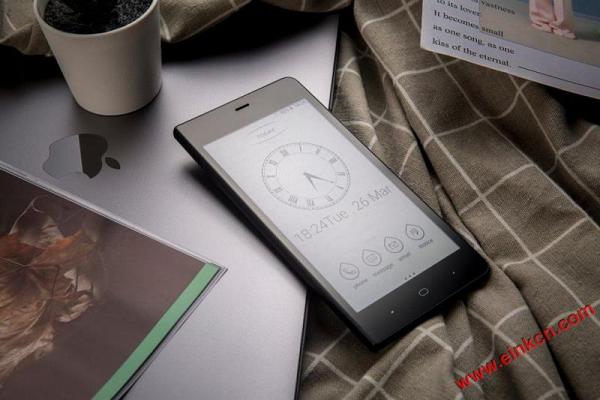 There have been a few E Ink smartphones with a single screen that has been released over the years, but most of them have only been available in China and do not work on major networks in North America. YotaDevices is likely the most well-known brand, but they released their products when smartphones were not mature and recently the company went bankrupt. There is a new smartphone that will be released on Indiegogo in the coming weeks and it might be the best E Ink smartphone ever made.
The Kingrow K1 features a 5 inch E Ink Carta HD display with a resolution of 1280×720 and 283 PPI. It has an adjustable front-light, something that no other smartphone in this class has ever had. Underneath the hood is a MediaTek Helio P23 (MT6763) octa-core processor , 2GB of RAM and 16GB of internal storage. There is a USB-C port on the bottom of the device and also 2 stereo speakers on the back.
There is also a front camera facing camera on the prototype, but it is unknown if it will be included in the final production model. There is also an 8MP rear camera with LED flash with auto-focus.
It is powered by a respectable 3100 mAh battery and you should expect around 2 days of usage when using apps and making phone calls. If it is used purely as an ebook reader, you can expect around a week of battery and 13 days of standby mode.
The Kingrow K1 is running a modern version of Android, unlike most of the e-readers that are currently available. It comes with Android 8.1 Oreo and will have full compatibility with Google Play and Google Play Services, so you can install all of your favorite apps.
This device will retail for a very respectable $349, but the company is giving a $100 discount if you subscribe to the Indiegogo Newsletter and when the campaign goes live, they will email codes out that can be redeemed.
There are some other E Ink phones around, but they do not have much visibility. The Litephone 2 was an Indiegogo darling. The company raised over $3.9 million dollars over the duration of their one year campaign. They have not shipped a final product yet. It is currently in the prototype stage. There is also the Card Kentai, which was only available in Japan, but the screen is only 2.8 inches. Hisense continues to release E Ink phones in China and rarely markets them in other markets. The A6 model was two screens, sort of like the YotaPhone. One is OLED and the other is E Ink.
It remains to be seen if Kingrow can release a compelling product. They are a company that has no brand recognition and no history of releasing consumer devices. They do not have an official website, just a few social media accounts. Their Facebook page does not instil much confidence, details on the product are light and they just have a few lower-resolution images and for some reason they like wishing everyone a happy friday, every friday.